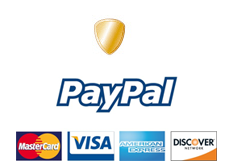 Web Hosting - Bronze Package
The Pay Pal link below is for ordering your web hosting account and paying by credit or debit card.
If you prefer to pay for your web hosting account on a yearly basis by cheque or internet banking please click here.
Your new web hosting account will be setup within twenty-four hours.
Card Payments
Pay Pal is our authorised payment processor.
Payments will appear on your statement as PAYPAL *Webmotions.com.au
If you are not a member of Pay Pal already, (over 86 million members worldwide, the world's most popular online payment system ) its Free to join and only takes a few minutes.
To setup your new hosting account and pay by credit or debit card, please enter your website domain name below and press subscribe.
Please ensure to enter your Domain Name (eg. www.yourdomain.com) before submitting any subscriptions.